BREEDER'S PRIVILEGE
I often tell my clients who are thinking about 'getting into dog breeding' to remember that the AKC's famous bumper sticker A PUPPY IS FOR LIFE applies to the breeder just as much as the puppy purchaser. I ask them if they are prepared to properly house and care for a half dozen teenage puppies, should they be unable to place them all in proper homes when they are 8 weeks old. And I ask them are they prepared to take back older dogs whose home lives have taken an unfortunate turn.
This Spring, I have welcomed home two of my puppies, now ten and eleven years of age. Younger dogs who have returned have generally stayed around for a year or two, and then have found a spot with someone who has lost their well loved Puli and who was happy to pamper another, even though it was not a puppy.
Older dogs have to stay here, to be most fair to the dog and the prospective new caretakers. Crackers and Allie both lost their owners – their 'mothers' – to cancer. Both had a period of weeks to months where they were in limbo before arriving back home. They made their way home in two different ways.
Crackers lived in Colorado with Jan Wood and Hal Smith who also bred and loved Newfies. When Jan died late last Fall, Cathy Sands, of the local Newfie rescue organization took Crackers. Hal, at 83 and on oxygen, was very sadly in no shape to care for an active ten year old Puli on his own. It took Cathy about three months to finally locate me. And that she did, she attributes to having found one of Cracker's Puli house-mate's AKC certificates (Ch. Szeder's Mefiszto, CD). From this they tracked me down by the kennel name, and found that I was the breeder of Crackers as well. For that period of time, Cathy kept her in her home, where Crackers interacted with her Newfs, something she was totally happy to do. I cannot thank Cathy enough for doing the right thing – finding Crackers' breeder. As it was the dead of a very snowy Winter at that point, and not knowing just how hale and hearty Crackers was, I became a bit frantic trying to figure a gentle way to get her home. Finally, a tiny break in the weather allowed us to book a flight. Susi Szeremy helped here, taking her home overnight and to the airport the next day.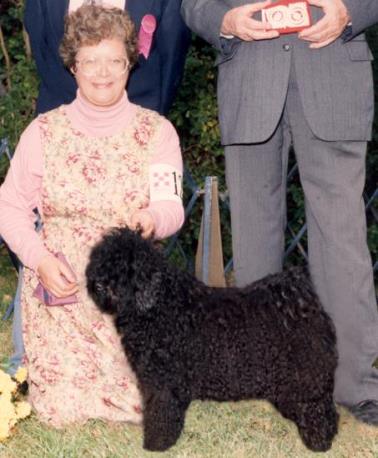 Jan and Crackers: Szeder's More Lovely
Of course I needn't have worried. Crackers is a Lavender/Morgo puppy, and is a virtual three year old at ten. Every day here, she has become more of her unique and irrepressible self. She talks and opines continuously, bouncing up and down on her front legs as she does. Constantly in eye-contact, she endeavors to make you aware of her opinion of what you are and what you're doing at every stage of the day. My requests are, of course, of no possible consequence in her universe, and she epitomizes my frequently expressed opinion that, "An Obedient Puli is an Affront to Nature". Seeing her relax and settle into her true self and blossom – at ten years old — has been a joy for all of us who've watched the process. Every day, I think of Hal and how much he must miss her twenty-four/seven continuous entertainments.
I, like many breeders who are devoted to this breed, tend to breed for personality first and foremost. Pulik are all about personality. Crackers has excellent hips, and it's a good thing she's spayed, because I'd be hard put to resist breeding her at her young ten years of age if she weren't! She is a Perfect Puli, as many of us value the breed. She sleeps on my husband's bed.
Allie is Ch. Szeder's Berries Ala Mode, UD, PT. Beth Johnson loved and was loved by Allie and her house mate Boz, bred by Jane and Hal McLane. Beth died this Spring and I went down to her house in New Jersey the next day to fetch Allie. Beth had been hospitalized for a couple of months, and was in re-hab when she died. She'd been expected to go home, and it was very sad to look into the open front door of her house and see the wheel-chair sitting there empty, waiting for her return. Boz passed on a couple of years ago, and Allie was the only one responsible for Beth's Life at the end. She was a very special dog to Beth.
To me she was special in a couple of additional ways. Her mother was returned to me by her owner as she "couldn't be shown and couldn't be bred" – never mind she had been Best Puppy at the National Specialty. I had to teach her her name. I had to teach her that she could go in and out the doggie door in the morning to run in the paddock and come back in at night for her good night cookies. I had to teach her to ride in the car. After teaching her these things over the course of a year, I took her to her first show, the benched show in Boston where she went BOS over a BIS specials bitch. She finished at our huge summer shows with 5 point majors. She could be shown. Then she produced Allie, who was Winners Bitch at the National and went to UD in obedience as well, and a Pretrial herding title. She could be bred. So Allie was the validation of a Discarded Dog, and I've thanked her and Beth for that ever since.
Allie was well known for being protective of Beth in the usual Puli fashion. She had availed herself of her ounce of flesh on a number of occasions. Beth always told me that I was the only one that Allie would accept other than herself. It could have been about six or so years since I'd last seen her. When I went to pick her up, I was warned that she might bite. I opened her gate, talking to her, and bent down to get a big kiss from her. Do dogs remember? Pulik remember forever and ever.
She's come home and assumed her spot on the futon, on her pile of blankets and pillows. She's healthy at eleven, and self-assured. And she's willing to eat anything handed to her – cashews, almonds, lettuce – very unusual for one of my Pulik, and no doubt related to Beth's macrobiotic diet. She's happy to roust any puppy who should try the futon, and to retire to a crate at night. She seems to find her routine a comfort and welcomes all visitors with great equanimity. As an Arnold daughter, she's lived for Responsibility; now she's discharged her Life's Responsibility, seeing Beth to the end of her days as best she could.
I'm happy to have these two ladies with me. I feel privileged to have inherited their owner's efforts with them. I honor them for the love and support they've provided their owners. This is what Pulik do best. Now they're enriching my life.