Szeder Pulik is situated at Pulitelek, in Ashford, Connecticut, in the United States. We have been breeding Pulik since 1980. In that period of time, we've learned a lot of things about the Pulik and about Hungary as well, which have added to the depth of our knowledge and our interest in what we do.
IN THE BEGINNING
In the beginning there was Blister - Ch. Hunnia's Szelid Szeder, CD. Blister was bred by Les Benis. Always sweet-natured and cooperative, his foolish 'call' name came from the fact that his Father's name was 'Blitz'. Now, Blister was one of those puppies that when he caught your eye, would launch himself from anywhere in line of sight and end up crashing into your lap in a single bound. So, we called him 'Little Blitzer'. This wasn't so bad, but just try to say 'Blitzer' ten times, fast. Hence, the nonsense name of Blister. They say confession is good for the soul.
Next came Tucsok. Another naming horror. Tucsok came to us at about 10 months of age as 'Becky'. Becky earned other names, as usually happens, as she lived her life. One day she'd be 'Shark' and the next day she'd be 'Vulture'. Which one she was on a given day depended on whether she attacked our old dog from above or below. So, in the only instance I've ever changed the name of a dog that already knew her name, she became Tucsok. Tucsok was her name because I saw it in her pedigree. Not knowing Hungarian pronounciation at that time, I pronounced it "tuck sock". That's why it seemed an appropriate name, as she was always very careful to tuck the dangling ends of the knotted sock she'd be playing keep-away with into her mouth. She never left anything dangling to give anyone else an advantage. The dog in her pedigree that was her name sake, was in fact, Talpas Tucksok. That translated as big-footed cricket. An interesting name for a Puli. I later learned the proper way to say the name -- Too Chick. Tucs (pronounced Tooch) became our foundation bitch, and in her first litter produced Fruzsi. Her registered name was Ch. Mystic Szeder's Tucsok. She was bred by Lee McKean of Gales Ferry, CT. My most enduring memory of Tucs was of her taking a drink in the kitchen of our 18th Century center chimney colonial house, running through the keeping room, up the stairs, across the weaving room, into the parlor chamber (our bedroom), and up onto our bed, so that she could spit out the mouthful of water she was carrying, and wake us up in a most decisive manner. Tucs was the dam of nine champion offspring.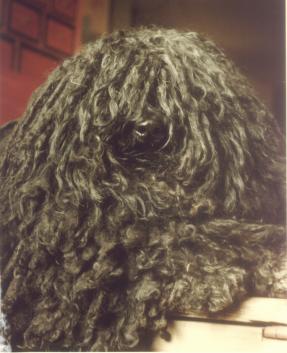 FRUZSI AND CIGGY
They have a competition in FCI shows that is called the Breeding Pair class. It is different from our Stud Dog and Brood Bitch classes in an obvious manner. We would surely have entered Fruzsi and Ciggy in a breeding pair class. Fruzsi (Ch. Szeder's Fruszeres Fruzsi) produced a total of fourteen champions, nine of which were sired by Ciggy, Am/Can Ch. Csanyteleki Cigany. She produced another five champions from one litter sired by 'Joe', Szeder's Road Show. Among the Ciggy get were three Group Winners and a Winners Bitch at the National Specialty that later earned an Australian championship as well. The Joe litter produced Lavender. Fruzsi was my first home-bred owner-handled Champion and Group winner. She won the Brood Bitch class at the National, represented by the BOS bitch, a Group Winner, and her Group Winning sister. Fruzsi was ever alert, checking the ancient mouse holes in our colonial house every time she entered the kitchen. A whisper would bring her onto your lap, throwing her arms around your neck for her hug. She was the Group Winning daughter of a Group Winning father, and produced three Group Winners and Europa Champion, Budapest Champion, CACIB, Multiple Best In Specialty Show, Ch. Szeder's Show Girl, HT (Lavie).
Multiple Best In Show, Multiple Best In (National) Specialty Show, All-Time Top Producing Puli Sire, American and Canadian Champion Csanyteleki Cigany arrived in the United States at the age of ten weeks. We had picked him out five weeks earlier, when we were in Hungary. I will miss him every day of my life. He brought me more joy than anything else in my life.
Morzsa is Ciggy's three-quarter sister. Each one of the Pulik in my life has been very special. Even among such high company, one or two are even more precious. Ciggy and Morzsa are two of these.
Bogi came home with us from our first trip from Hungary. She became an essential part of our breeding program.
Arnold is a Ciggy son out of Mt. Hood's Lenke of Tordor, a Blister daughter as was Fruzsi. These breedngs were always very successful
Carbon was from Ciggy's second litter. His mother was Nora Telegdi's Can. Ch. Martonvolgyi Ezses. From Ciggy's second litter, he was Winner's dog at the National, and his litter sister Kormi was BOW/WB at the same National. Shipped to Hungary, he was the top Puli in Hungary for 1984.
Clouseau was top dog in Canada for many years, joining Ciggy in that position. A Canadian Best n Show Puli, Clu resides with Jacques and Jeanette Babin.
Hairy is a knockout out of Lavie and Arnie's last litter.

---
Blister
Tucsok
Fruzsi
Lavender
Ciggy
Boglarka
Morzsa
Arnold
Carbon
Hairy
Mac
Clouseau